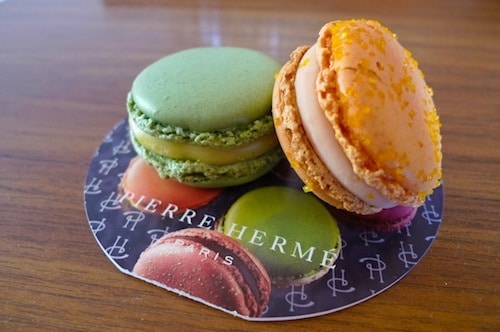 It's no secret that I'm a fan of sweets, and macarons are at the top of that list. I've written about macarons extensively on my blog, and made hundreds of them while testing recipes for a macaron cookbook. I've eaten them at every location in San Francisco that I learned made them, and it's not uncommon for me to BART over to SF just to buy the best macarons I can find. (And also, to grab a few French cannelés, which are well worth the trip!)
I was in Paris this week, and the very first adventure I went on was to go find the two most famous pastry shops in town and try their macarons. That's right — I went on a macaron pilgrimage, visiting both Pierre Hermé and Ladurée in the same day. I bought a couple in each location and put them to the test to see who had the better pastry.
Ed note: You'll notice I used the term "pastry" instead of "cookie." That's because every time I called macarons "cookies" in Paris, I was corrected. According to the Parisians I talked to, macarons are most definitely not cookies. Lesson learned!
After a little digging, I learned that both Ladurée and Hermé had locations on Rue Bonaparte, not far from the Seine River. Headed to a perfectly central location on the left bank, I planned my day: I would buy a handful of macarons at each bakery, then enjoy them in the sunshine while sitting along the river. The weather was topping out at 72 degrees that day, and I couldn't think of a better way to spend my afternoon than nibbling gourmet goodies in the Parisian sun.
My first stop was Ladurée, where the scent of pure sugar wafted out the door and down the street to greet me at the corner, beckoning me to the shopfront. I was immediately swept away by an incredible assortment of pastries in all sizes and colors, including a selection of ten or so flavors of macarons and a handful of larger macarons that were three times the normal size. The decor was delightfully, classically "French", or at least what this American girl thinks of when she dreams of French pastry from thousands of miles away in California. Think rich greens, blues and browns, pinstripes, and matching seafoam-green ribbons on every box. I felt like I was walking into a Parisian pastry fairy tale.
The line was out the door, but no worry; that gave me plenty of time to gawk without looking like a loafer. After staring in awe at their selection of sweets, I chose two flavors of macarons – salted caramel and chocolate orange – and headed out the door to visit Pierre Hermé's shop down the street.
Pierre Hermé was less classically decorated than Ladurée, and was instead very sleek and stylish. The place was decked out in glass and dark teak-looking wood, rounded out with black accents. Here, the desserts provided all the color to the joint, and I suspect that was the whole point. In the dark environment, each little treat glowed like it was Louis XV's crown jewels.
Here I selected two more macarons – passion fruit and vanilla olive oil (!!) – and made my way to the Seine River to put these little jewels of egg white and sugar to the test.
The Test
Visually, both shop's macarons were gorgeous. Their colors were bright and they flaunted themselves, unashamed, in the Parisian spring sunshine. The first thing I noticed, though, was that Ladurée's macarons were a little lacking in the filling department, and their shells were a little cracked, while Hermé's macarons were literally bubbling over with filling and the shells were perfectly in-tact, with not a crack to be seen. Upon the first bite, though, it turned out that one of Hermé's macarons – the passionfruit – had soaked up the moisture in the filling, making the shell soggy. Also, the passionfruit was really, really tart, and almost made me turn my face inside out. While I did like the flavor, it was a little shocking considering the fluffy texture of the buttercream filling.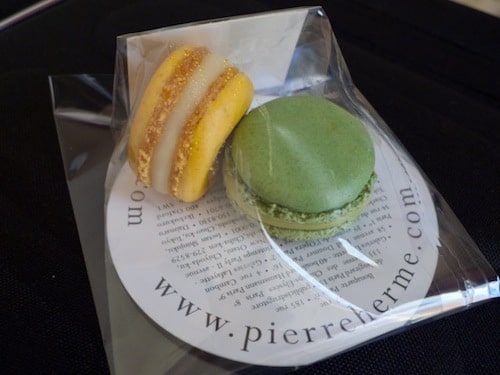 Here it's important to note that both bakeries use the Italian meringue method for making macarons, since it yields a more stable batter (anyone who's made macarons knows how volatile the process can be) and a somewhat denser finished product. While Ladurée's macarons had less filling to boast and the shells were a little worse for wear, they both displayed consistency in quality — the shells were crispy on the outside and soft in the middle, and had a lovely little crunch when bitten into. Hermé's on the other hand, were softer and lighter, floating on your tongue like little sugary clouds, like the very first bite of cotton candy you tried when you were four years old.
Flavor-wise, both were lovely, but I felt that while Ladurée's macarons were more consistently better, Hermé's flavors were more creative. The vanilla olive oil variety was particular unique, and incredibly satisfying, but the passion fruit was a little too much of a sock in the face for me to enjoy it. Ladurée's chocolate orange was smooth and creamy, and the salted caramel divine, but they were flavors I'd expect to see in a macaron, and therefore didn't stand out beyond their high quality of overall flavor.
The Verdict
If I had to pick a winner (and I guess I do, given the title of this post), I'd say that the Macaron Oscar goes to Pierre Hermé, with his vanilla olive oil variety. Hermé also packed in the filling, which made for a better visual experience and a more satisfying first bite, making the overall package a sheer dream. That said, Ladurée certainly held their own in the battle; their macarons were more consistently good, but the shortage of filling and the cracked shells were kind of a bummer.
My final word? I recommend that you visit both places and decide for yourself. If you're in the left bank area, the two shops are only like three blocks apart, so stage your own battle!
This content was originally posted on FearlessFresh.com.